Girl About Town is an on-going column that profiles events, happenings, and spaces across the globe.
Saturday, January 21st. The day of the Women's March and the day a fighting spirit took ahold of NYC, deeming itself a more permanent attitude for this city. Running like a fish upstream through half a million protestors and feeling totally inspired and pumped up, I made my way to J Lew's first lifestyle and fitness event. The event was touting boxing, obstacle courses, and yoga/meditation experiences taught by some super accomplished ladies, which could have been intimidating were it not for the amazing space and positive vibes radiating at full blast.
"Was I here to work out?" As a 2017 fitness resolutioner, I was certainly here to work out something, but what was fixed in my mind by the end of the day was something more hearty than some #fitspo. As expert coach and trainer Cassidy Watton's session ended and everyone flocked to the bar for healthy refreshments and one of the event's signature cocktails sponsored by Grand Marnier, the stage was readied.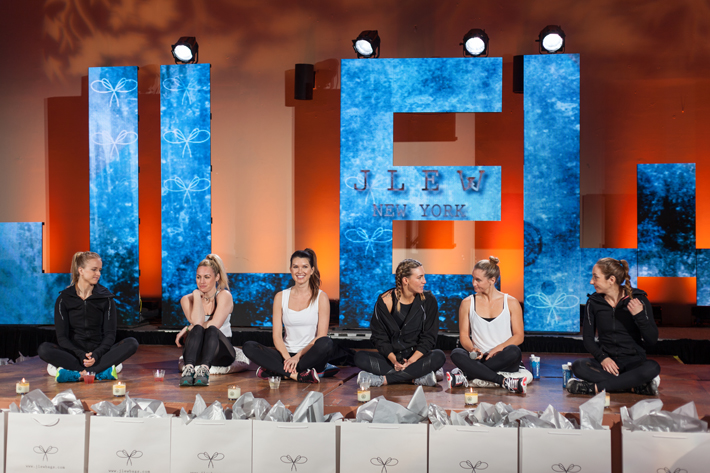 Pro Spartan Racer/Coach + Trainer Cassidy Watton, Pro boxer + MMA fighter Heather Hardy, Ironman Amanda Burrill, 2016 Olympian boxer Mikaela Mayer, #1 flyweight amateur boxer in the USA Ginny Fuchs, MMA UFC fighter Heather Jo Clark
Seated in a line on the stage, the panel of heavyweights (ha) were asked to introduce themselves and share their personal journeys. As each woman gave their story (and named their favorite J. Lew bag, see the top pick below) tales of defeat unwound into words of encouragement. Audience members were equally as forthcoming. "How," asked the audience member, "do you compete with other women and not come out hating each other?" Talk about a hard-hitting question. Heather Joe Clark, an MMA fighter in the strawweight division, dives right in. "You get into the ring, you beat each other up, and then you go for lunch. Yes, be competitive, but believe in each other. Push each other." I can tell these women can lay down more than punches. Clark vows to continue carrying this message forward in her new podcast starting next month.
Heather Hardy equals this resolve. "People keep asking who the next Ronda Rousey is. We are! All of us! There's this underlying thought that there's only one woman at a time who can succeed instead of building each other up. I think it's our responsibility to embrace and encourage other women in our field." Hardy's fight is not just a message of unity, she's also championing for equal pay within her sport. The only way women boxers get paid for fights is through ticket sales—a hurdle that has long been demolished for men. "You have to open your mouth, sometimes people don't even realize this." Her next fight is March 4th at Barclays and I feel like everyone should buy a ticket.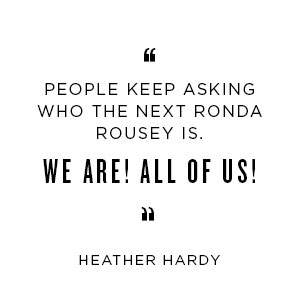 For women that did come looking for fitspo, there was no shortage of encouragement. Cassidy Watton shot words straight to my own heart: "People approach me all the time to take my class but say they need to get in shape first. I tell them, 'No, you don't need to. Church is for sinners like the gym is for people non-fit people."
For Olympian Mikaela Mayer, boxing and training was what kept her grounded. "I was going down kind of a bad path—I went to four high schools in three years." Muay Thai kept her focused and she wound up graduating early from high school. She shifted her focus to boxing once the Olympic organization announced they would let women compete in the sport (the very sport the Olympics was founded upon) and was awarded the only college boxing scholarship for offered in the USA. She competed in the 2016 Olympics but lost to Russia (who, she points out, wasn't even supposed to be allowed to compete after the doping scandal). After losing, she didn't know to do with herself or what her next goal was. She, much like those attending the Women's March, found strength in community (fellow team member Ginny Fuchs). They are both 2020 Olympic hopefuls.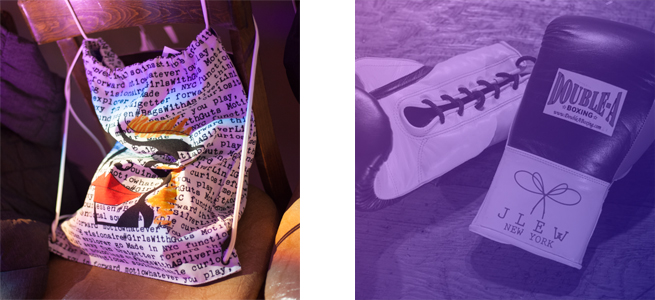 J Lew collaborated with street artist Anna Laurini to make this limited edition event bag

My takeaway wasn't just my complimentary J Lew yoga mat and a swag bag filled with everything from Birch Box goodies to free Maman coffee, it was larger than that. We live in a city where we accept that a dog-eat-dog mentality is the only reality. Yet here were women, not just here at the J Lew studio, but 500,000 in the streets of our city saying enough was enough. Yes, when the day ended so did the event and the march, but I felt us collectively take a strong step forward in the continued long uphill battle for women's rights and equality. —LK


*The winner of the title fight for favorite bag —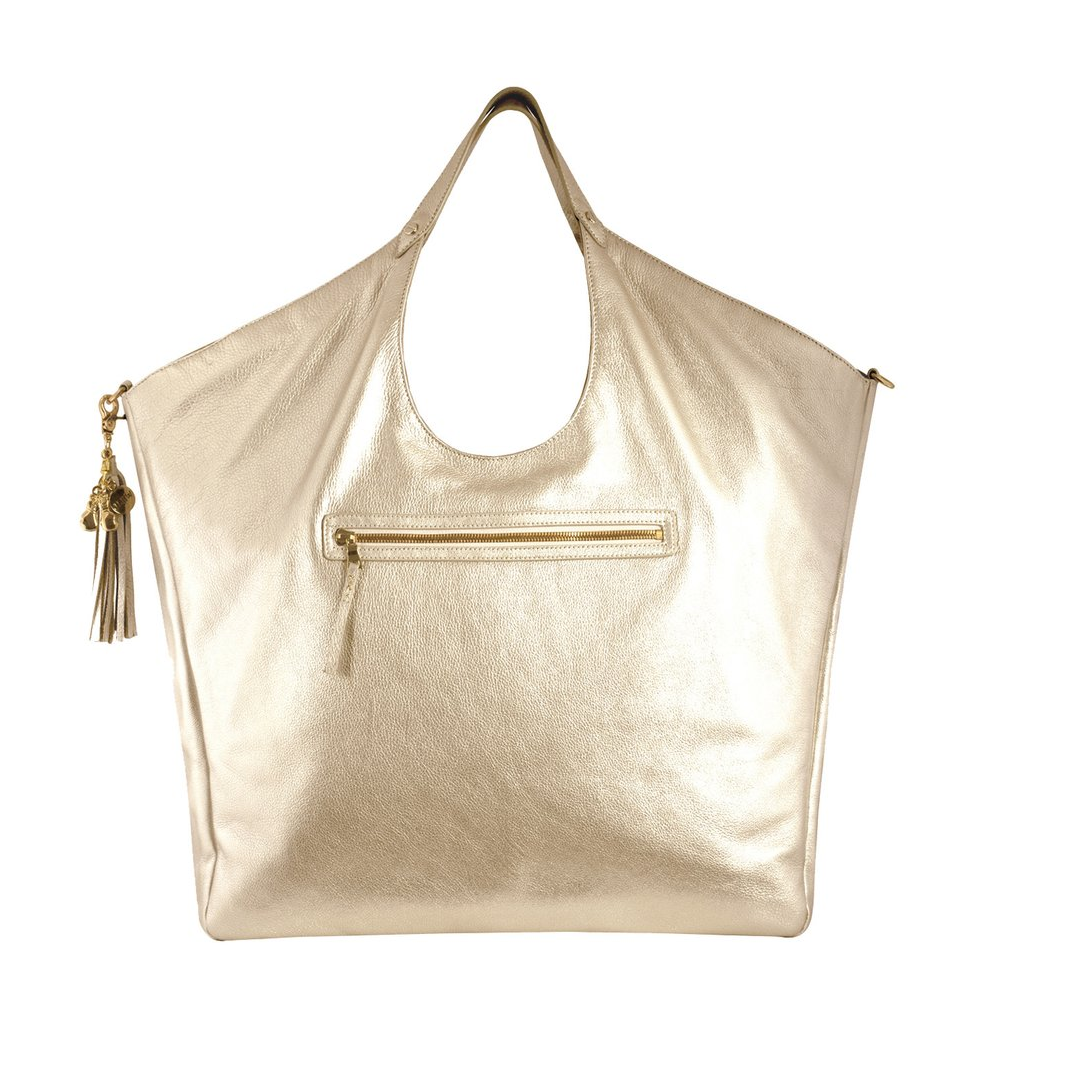 Check out the stats on J Lew's day-to-night, work-to-workout bag:
— Made in America
— Made from full-grain leather (some styles available as vegan leather)
— Chic enough (and spacious enough) for a 15" laptop with an external pocket that will fit phone, keys, wallet, passport, boarding pass, even an iPad Mini
— Antibacterial lining

Snag your own here.