Clockwise from top left: Lip Gloss in Purple Rain by Anastasia Beverly Hills, Eyeshadow in Chrome Yellow by Mac, Eyeshadow Stick in Olive My Love by Flower Beauty, Lip Crayon in Mood Ring by Tarte, Limited edition Magic Wand brush by Tarte, Nail polish in 114 Snap! Mandarin Orange by Marc Jacobs, Vice Liquid Lipstick in Twitch by Urban Decay, Kohl Couture Waterproof Eyeliner in Turquoise by Givenchy, Transforming Touch Powder-To-Creme Blush by Flower Beauty, O!Mega Lash Volumizing Mascara in Peacock 40 by Marc Jacobs, Artist Shadow Eyeshadow and Blush in Azure Blue by Make up Forever
Take a backseat, au naturel. The ultra-bright beauty trend is here (and she's not shy). Think royal blues, neon greens, icy pinks, and standout yellows. Intimidated? Don't be. While these colors certainly aren't for the faint of the heart, we asked legendary makeup artist Kabuki (the man responsible for those unforgettable Sex and The City faces and our very own Chapter 2 cover shoot) to provide us with foolproof tips on how to go bold without looking like a scary Halloween experiment. (Hint: don't combine too many colors at once.) Trust us, you don't want to miss all of these bright ideas.
When combining bright colors, how should one approach this in terms of products? Contrasting liner + nail color? Shadow + liner? Lip + eye? Mascara + shadow? Cheek + lip? Are there any rules for this? Combos you love?
Go with emphasizing your strong points. For example, if you have great natural eyelashes, try a royal blue mascara paired with a fuchsia or yellow eyeshadow. If your lips are your best feature, place the focus on a bold lip color and offset it with a delicate eyeliner in a contrasting color, or a bold pop of color on your nails. How you do it depends on your comfort level and personal style.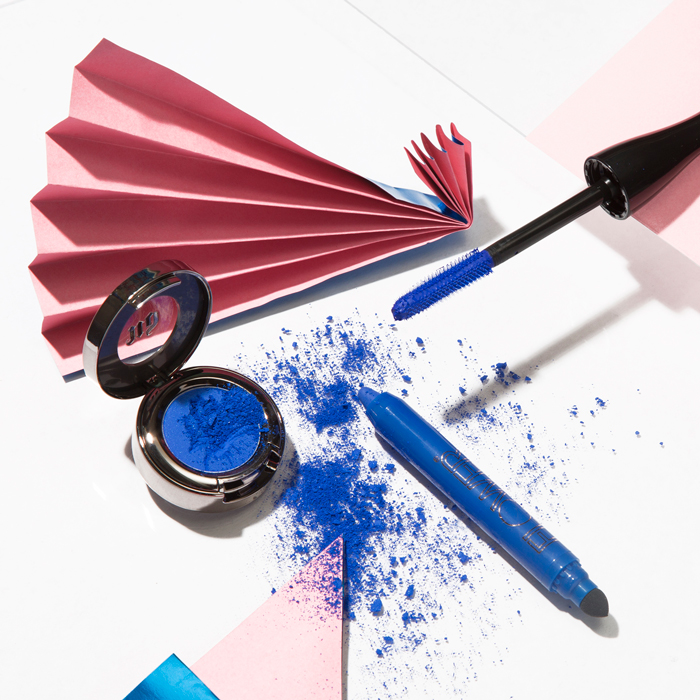 Eyeshadow in Chaos by Urban Decay, That's So Kohl! eyeliner in Electric Volt by Flower Beauty, In Extreme Dimension Mascara in Sky Is The Limit by MAC
How many brights should one combine in a full-face makeup look?
Start with two and see if you get inspired. Sometimes unexpected magic happens when you layer one color over another. Do it by a window or in good light so you can really see the effect you are creating.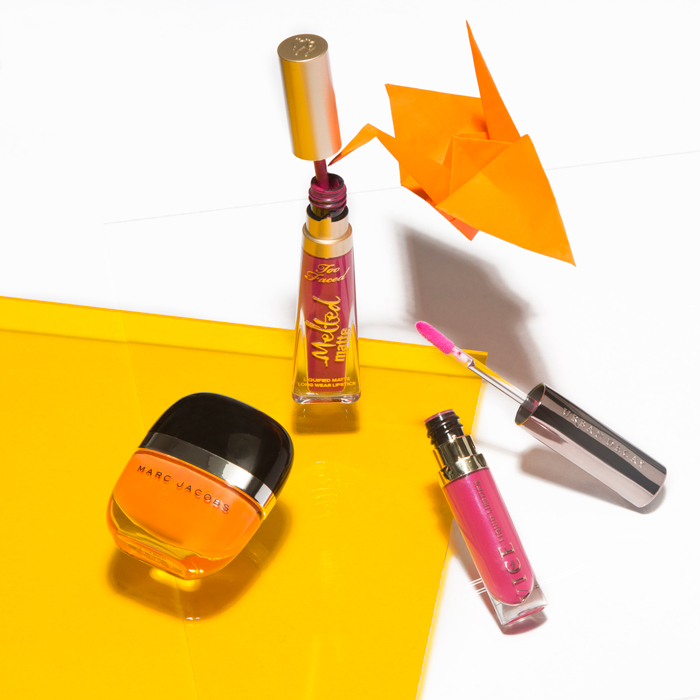 Nail polish in 114 Snap! Mandarin Orange by Marc Jacobs, Melted Matte Longwear Lipstick in It's Happening! by Too Faced, Vice Liquid Lipstick in Menace by Urban Decay
Do nails count? Or do you suggest keeping nails neutral or bare?
A bright pop of color on the nails in an intense color is a chic compliment to a bold, bright lip or eyeliner. Try two or more colors on each nail if you are really feeling creative.
Which brights work best for which skin tones?
Olive skin tones look good with warm colors, like red-orange, turquoise, lime green, or fuchsia. Red-toned skin looks good with cool-toned colors, like icy pinks, violets, yellow, emerald, and sapphire blue. These are just guidelines—don't be afraid to test a color if you love it.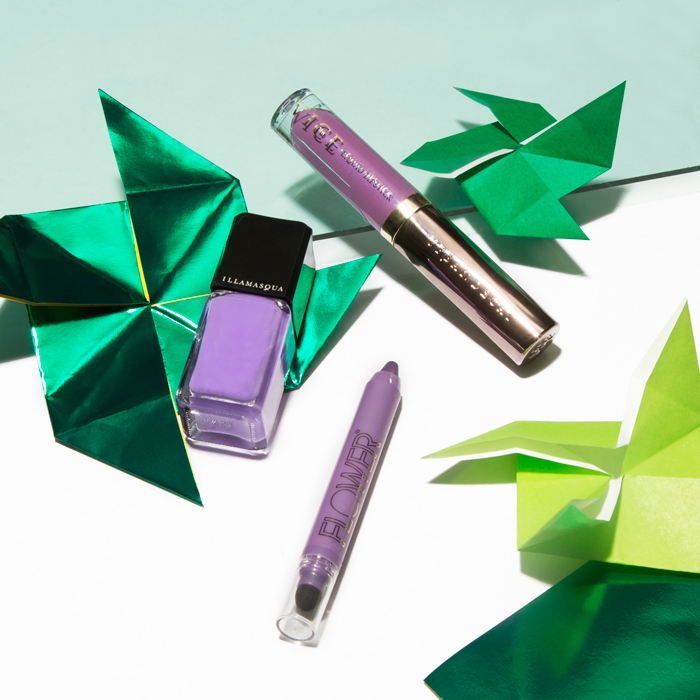 Nail polish in Jo'mina by Illamasqua, That's So Kohl! eyeliner in Tell Me No Lilacs by Flower Beauty, Vice Liquid Lipstick in Twitch by Urban Decay
Which contrasting colors do you recommend combining?
Yellow and turquoise.
Royal blue and pink.
Green and lavender.
Hot pink and orange.
Purple and Robin Egg blue.


Are there textures/pigment types that work best to achieve this look?
Matte textures are great for emphasizing pure color. A shiny texture will give you a different feeling and soften the effect of the color. The glossy texture will intensify the overall impact of a multi-colored look.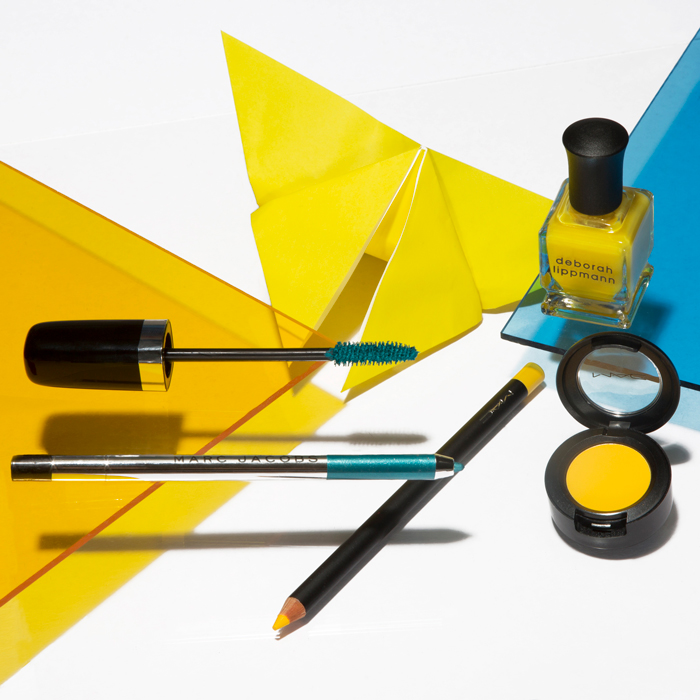 O!Mega Lash Volumizing Mascara in Peacock 40 and Highliner Gel Eye Crayon in Whirl(pool) by Marc Jacobs, Chromagraphic Pencil in Primary Yellow and eyeshadow in Chrome Yellow by Mac, nail polish in Yellow Brick Road by Deborah Lipmann
How can one pull this off in a chic, flattering way without looking like a clown or in costume? Any other specific tips here?
One guideline that might be helpful is to pair a bold element (like a graphic eyeliner), with a delicate element (like a colored mascara or a sheer eyeshadow).
It's important to make the application very clean and precise. Don't rush and pay attention to how it is looking while you're creating. Sometimes knowing when to stop is key. The lavender eyeshadow you pair with emerald green eyeliner might look better when it's only defining the crease of your eyelid and not covering the whole eye area.
Do a test of the colors on the back of your hand before you start applying it to your face. You might find this inspires ideas for placement or application technique.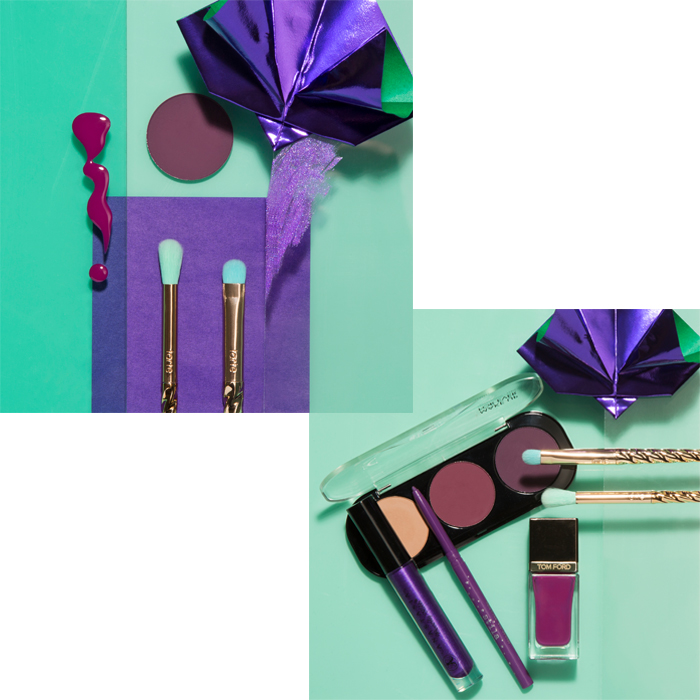 Make Believe in Yourself: Magic Wands Brush Set by Tarte, Smudge Stick Waterproof Eyeliner in Purple Tang by Stila, Lip Gloss in Purple Rain by Anastasia Beverly Hills, Nail Lacquer in Plum Noir by Tom Ford
As an aside: your ombré rainbow lid. How difficult is this to achieve?
The rainbow is easy if you have eyeshadows that blend well together. An important tip is to start with a good eye primer such as MAC Cosmetics Prep + Prime 24-hour Extend Eye Base.

—AZ