He did not have me at hello…he was vanilla ice cream. My last relationship was Rocky Road. I had no interest in Rocky Road, but had even less interest in vanilla. Now I love ice cream, but why an ice cream analogy popped up as I looked at Jim across the room that first day I have no idea. Here was a man whose eyes sparkled on his own, a man who clearly did not need me for emotional dialysis, a man sans drama. "Vanilla…" I thought. Was I ready for a healthy and whole man? Not by a long shot. I had prayed for "him" but was not ready for him.

We met spiritually cute at a year long Manifestation Workshop led by Rick Jarow who years later would marry us. I saw Jim beam at me at our first meeting, I was nursing my heart from a relationship that had left me broken in all the right places. I no longer had any interest in saving anyone; it was time to focus on manifesting my desired vocation. So I simply avoided him…but could not avoid him.

During that year, I dated others rather emptily. I dabbled again with moving to California to pursue a childhood dream. Nothing stuck, nothing felt right. So on an intuitive whim and nudge from my beloved therapist at the time, I signed up for a Feng Shui certification course. A three-year course, clearly I was ready to commit to something just not ready to commit to a relationship. It also meant that I would stay in NYC.

Still no clear-as-a-bell romantic interest in sweet Jim. But then one day, I incongruously wore a cowboy hat and Jim incongruously jumped into a taxi with me and declared that his "stretch exercise" from the workshop we were taking was to call me sometime. So he did and we went on our non-date date. We spoke easily for hours and we ate terrible salads at a place I chose. And at the end of the night, he kissed me at my front door not once but twice.

There was no dramatic adrenaline rush but his kiss did feel deeply known. I felt this strange feeling of time collapsing, like I was an old woman looking back on my life with my love beside me. I'm almost embarrassed to admit that I felt like that woman in "Titanic" throwing her necklace out to sea.

Still, even with that, I wanted my focus to be elsewhere. I ran elsewhere. Within Jim's reflection I was luminous, but I was not ready to receive that. So upon our last Manifestation weekend at the Ashram, he asked if he could drive me there. Previously my father had driven me there, as being a procrastinating New Yorker, I didn't have a driver's license. But these trips with my father somehow felt like I was going backward instead of forward in my life. And as I was going to this workshop to focus on manifesting my future, instead of unwinding a thorn from my past, I said yes to Jim's offer even though I still felt somehow numb about us.

That safe numbness was shattered by a dentist. A dentist had told Jim he was concerned about something he saw in his x-ray. They were concerned it might be cancer. As he shared this piece of news with me, something pierced through the broken-hearted pieces that had reconfigured into a glass shield…now I felt something.

We traveled together that last weekend in a car, the same car that years later we are still driving in, only now, with our children in the backseat. But for then, I continued to be that woman I didn't recognize. A woman who was unintentionally mean in her pretended neutrality.

I could feel my heart grow more rigid as we were preparing for one of our last activities before the end of this nearly year-long workshop. We all had a chance to sit on our own in the middle of a circle created by the other participants. Each person would intuitively say what they "saw" for the future of the person in the center. I expected to hear a lot around vocation, but instead I heard a lot of comments about the children I would one day have, and with each new entry about my future kids I found myself spiraling in fear.

Love…was I ready for love? I had said that I was for so many years, I had prayed for love. But I had chosen so poorly in the recent past and I was feeling paralyzed to leap, what if Jim was the wrong man. What if he was the right man and then I would really have to love myself then wouldn't I. So I closed my eyes and said a prayer within the circle…send me a sign.

The bear of a voice that was Rick, came a few moments later as he told me something about the Black Forest and all I could feel was a thread of a children's fairytale that was somewhere in my heart to write.

Lovely, but not the message I was in search of.

Send me a sign…I silently entreated. And then Rick's voice again, only his voice was otherwordly now. What he said next were four words that changed the trajectory of my life forever.

"Let the man in."

And I gasped. Tear-filled eyes…heart in my mouth. The message literally could not have been clearer and given the level of my fear it needed to be that literal.

And so that's it, did we live happily ever after from that point on?

Not quite yet, and maybe not quite ever, as this is a real love story and not a fairy tale. So in real life, when I left the circle I felt so exposed and raw that I couldn't look Jim in the eyes and instead rushed off to prepare for our final evening's ritual.

I prepared a bundle of found symbolic objects that stood for the things I wanted to surrender to the fire pit that last night in order to rise from the ashes. I chose quickly and intuitively. And when I looked at the collected jumble in my hands that was to be released, I cried as none of it was about my career it was all about love.

It was time…

I was nervous that pitch-black night, I was scared of the dark and for a woman in love with the moon that was indeed disorienting. I was the last to cross a precarious bridge to a small island where everyone had gathered, feeling so vulnerable and yet surefooted. There was one spot open around the flames, Jim reached out his hand to me and I took it. And even when I have been tempted to let go over the years I have never let go.

He sang "Witchcraft" to me and it wasn't creepy or corny it was in a word divine…he saw it all…he saw me and I him and that was perfect. And as it turned out, Jim had never been a reductive flavor like vanilla…he was more like pistachio cardamom. He was someone with complex notes of deliciousness, someone to savor. Oh the hell with the metaphor, he was not a cliché ice cream flavor…he was a real person and he was kind, generous, wise, funny and true-hearted…and he was my soul partner.

And so we never really dated, our first "date" was at my apartment with an impromptu visit from two of his brothers who Jim had "coincidentally" run into on the train earlier that day. We listened to Eva Cassidy sing "Imagine", we held hands, and for the first time I knew that home was where he was. I was now ready to be luminous not from his reflection but from my own, but oh, how much brighter I shine with him by my side.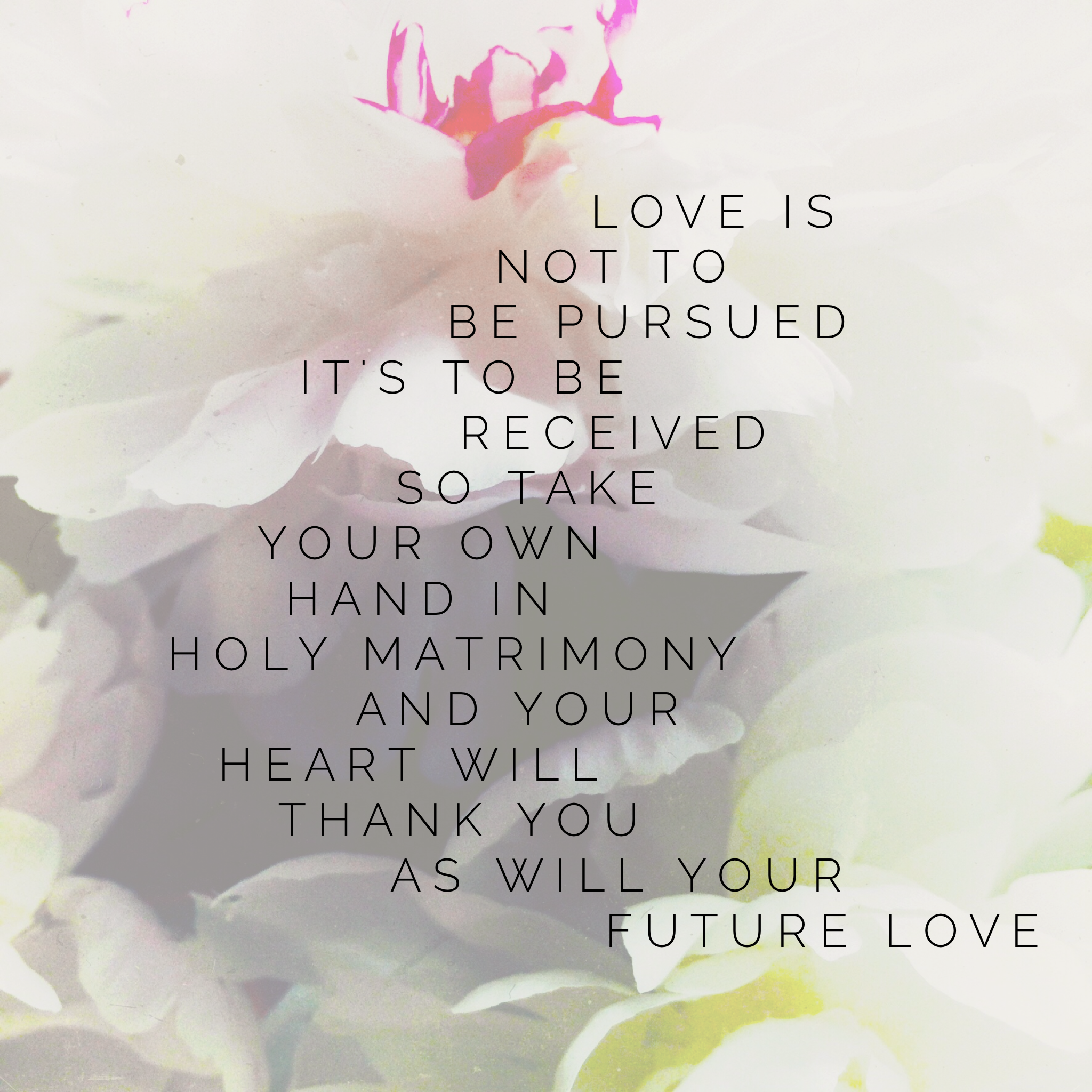 This is a special Poem Prayer that I wrote especially for Story + Rain to evoke the essence of my Penned By piece. My Poem Prayers come through me as heart whispers. While I have always been a writer, poetry had never been my medium. That is until a few months before my mother's sudden death in the summer of 2015, when these poems started flying out of me and found their home as Instagram posts accompanied by my photographs. As my mother was a poet it felt like a passing of a torch in some deep way from one writer to another and from one generation to another. As the first poem took form, I heard it name itself as a Poem Prayer.

While my Poem Prayers are not religious in nature, they are intended to touch the divine within us and around us. They are ultimately evocations to stir your heart and soul and they often come to me with a simple prayer preceding it of "may this be of service."