With the proliferation of meditation apps, we all have that friend who dominates dinner party conversation with talk of her burgeoning at-home practice. Truth is, many of us have a hard time sticking to such a slippery discipline when left to our own devices. (There are Netflix shows to watch, Instagram feeds to scroll, pets to be cuddled, naps to be taken, bookshelves to be organized by color!) And yet, in spite of our goldfish-like attention spans, we are still desperately seeking peace. It's no surprise then that the promise of tranquility is attracting throngs of overworked, over-partied, and overstimulated New Yorkers to meditation centers all over town. Most of these centers require you to sign up and pay in advance; some even encourage you to reserve a cushion position. Like a highly coveted gym class, guilt is a big motivator in getting you to show up. Also, for the zen-challenged, like myself, meditating in a group with a guide doesn't make you question whether or not you're "doing it right" as often as when you're sitting Indian-style (and dangerously close to the remote control) on your couch at home. So in search of equanimity, I dragged my easily distracted mind to a few of the most popular meditation studios in the city.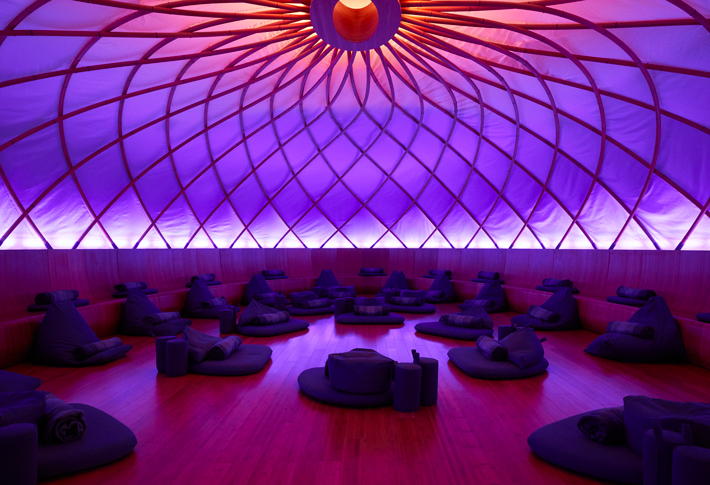 Who: Inscape
Where: 45 West 21st Street, New York, NY
What: This is Vanilla Sky meets IMAX meets a neon-lit lounge in Tokyo. In other words, whether or not this is the future of meditation remains to be seen, but the owners are doing everything in their power to make you feel that it is. Classes are 33, 44, 66, and 88 minutes. None of them come with teachers, but rather a soothing voice called "Skye" with a hard-to-place accent who guides you through your session, and a facilitator who's there to gently nudge you if you happen to nod off—a distinct possibility when classes require you to lie on a comfy pad with an alpaca blanket draped over your body. My boyfriend, who attended the 66-minute "Deep Sound" class ($29) with me, said he spent 15 minutes planning the design of his new website and then the remaining 51 napping. I also spent most of the session not awake, and even when I was, I was quickly lulled back to sleep by a chorus of soft snores. Point is: it's nearly impossible to not doze off under these conditions. While no real "teaching" happens, I left feeling refreshed, relaxed, and with the smug sense that, if meditation is this easy, I'd be a master in no time.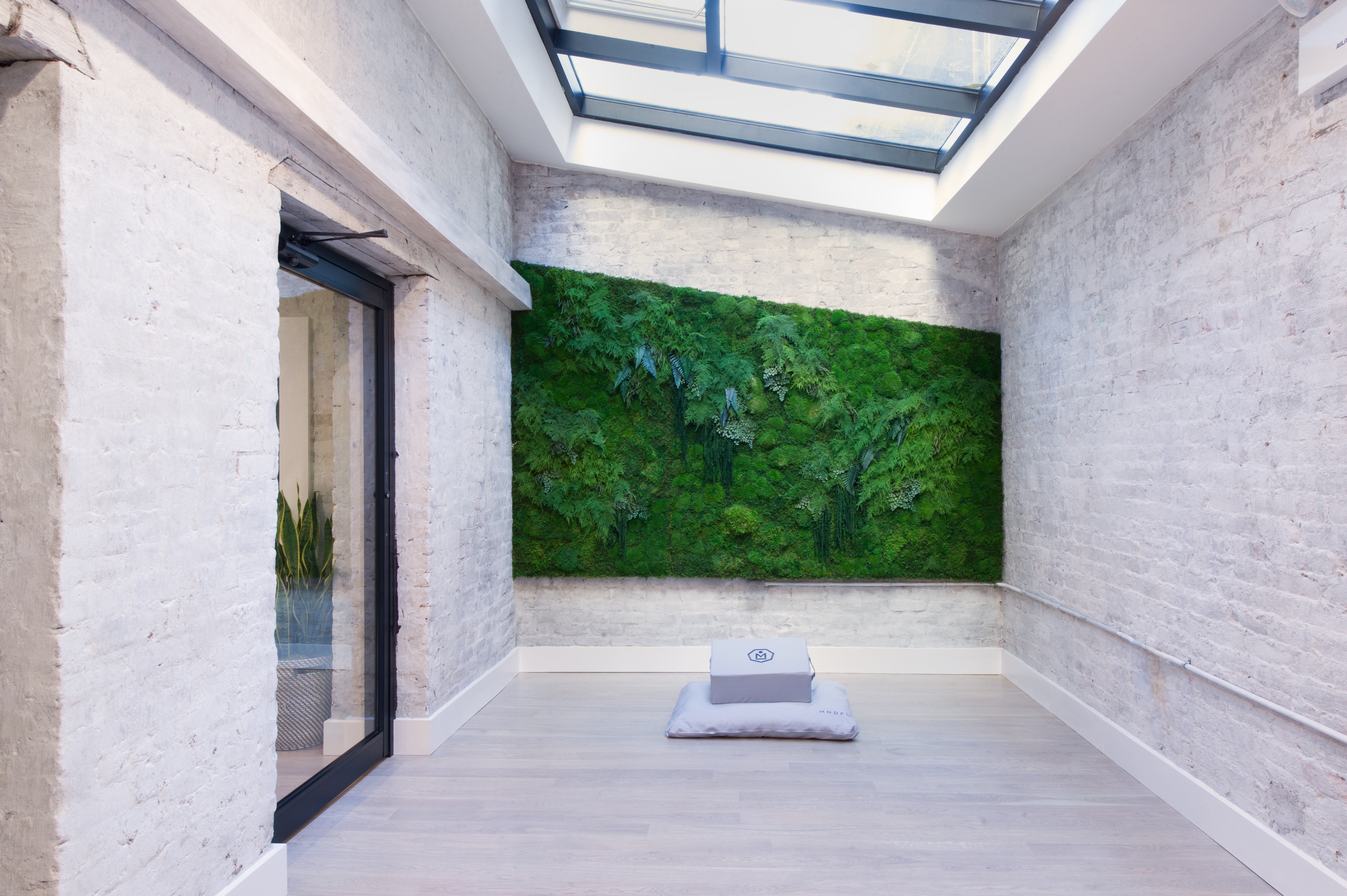 photo by Stephen Wilson
Who: MNDFL
Where: 10 East 8th Street New York, New York
What: An industrial space decorated with lush greenery, a kitchenette stocked with herbal teas, stacks of self-help books, scented candles, and a communal area that encourages quiet conversation (or at least friendly eye contact), this could be a well-heeled friend's West Village loft. Unlike Inscape, here you actually sit, Buddha-style, facing a teacher. In a 30-minute "Intentions" class ($18), we were guided on how to bring focus back to our undisciplined minds, like "correcting puppies." We were also taught how to focus on the breath, and urged to find a positive affirmation to silently repeat like a mantra. The teachers insist you be easy on yourself—let the thoughts come and go like clouds in the sky. This is traditional meditation taught gently in an ultra-modern, urban setting. And it works. I left armed with tried-and-true techniques, feeling rejuvenated, and dare I say, mildly enlightened?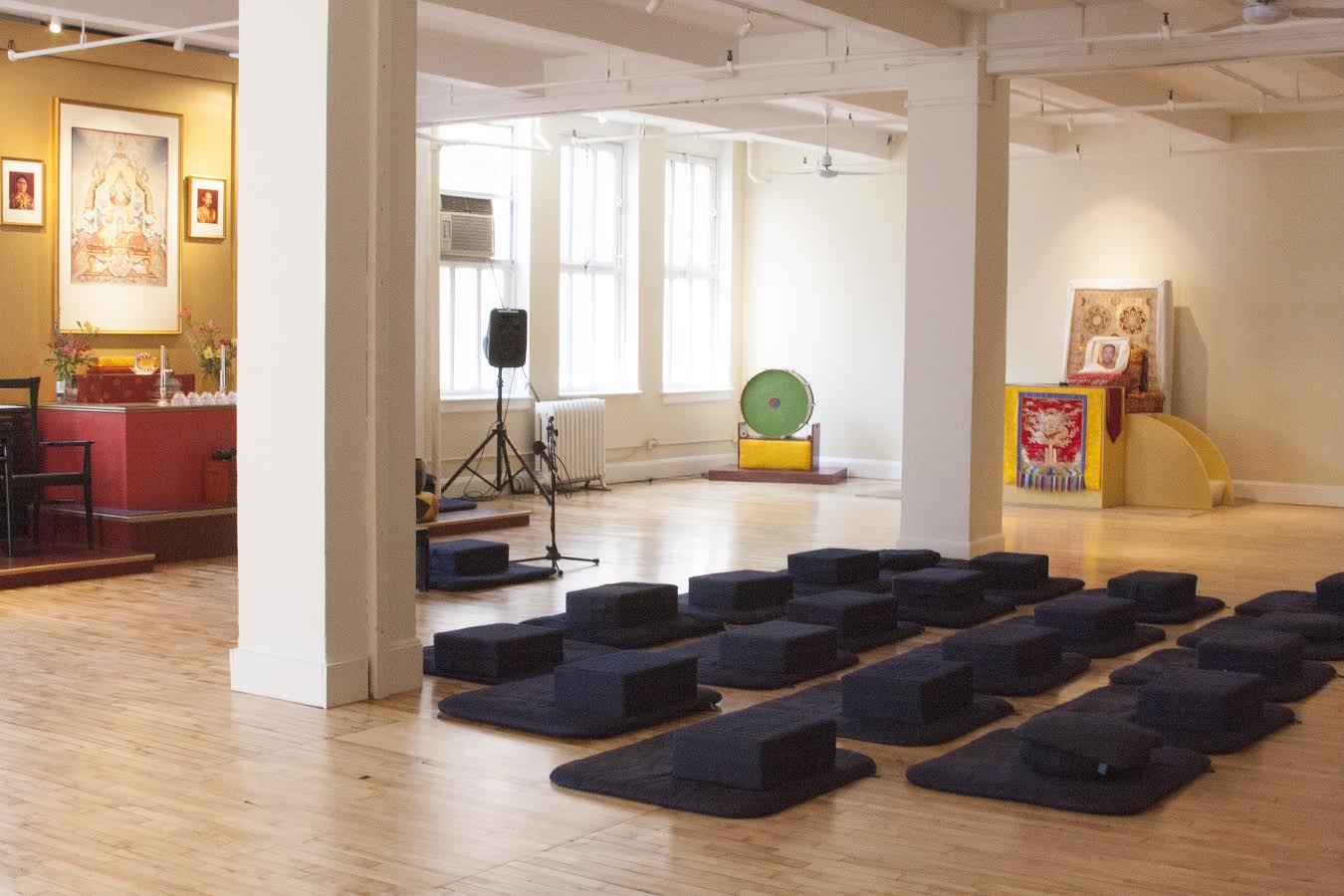 photo by Ashley Dinges
Who: The Shambhala Meditation Center
Where: 118 West 22nd Street, New York, New York
What: A fixture in the world of NYC spiritual seekers for over 40 years, Shambhala offers a no-frills approach to meditation practice. Taught in an old loft, sometimes you get a cushion, sometimes you don't—depending on the size of the turnout. (My butt was one of the lucky ones.) The value of the experience comes primarily from the teachers, most of whom are trained in Tibetan Buddhism. The "Learn to Meditate" class (suggested donation: $10), walks attendees through the basics, with the teacher answering questions along the way. Compared to the newer, glammed-up spaces, Shambhala caters to more serious disciples, people looking for a rigorous program on the path to enlightenment. Because it's the real deal, I left feeling both determined and fairly intimidated.
—AZ