Awestruck by the beautiful flowers our editor Tamara used to receive while at Cosmopolitan, we sought out Grayson and Arturo at Prudence Designs to create stunning floral pieces for our PLACES shoot. Nestled in a quiet street in midtown Manhattan, their shop is easy to pick out—the chartreuse awning (in Grayson's favorite color and printed with a flower-toting dachshund) pops from blocks away.
To create our signature bouquet, Grayson gathered a crush of wine-hued blooms that are signature to the season—freedom roses, dahlias, arum calla lilies, and wax. "It's like being a chef—you go to the market and handpick the best ingredients. Our arrangements are only as good as the ingredients we use." Both Grayson and Arturo have fashion design degrees (from BCU and FIT, respectively) and use the design principles of form, texture, color theory, scale, and balance to compose arrangements that feel natural, effortless, and timeless but never contrived. "There's a whole movement now with flowers that I don't understand. They're manipulated, forced to do unnatural things, bending like cirque du soleil. You need to know when to stop."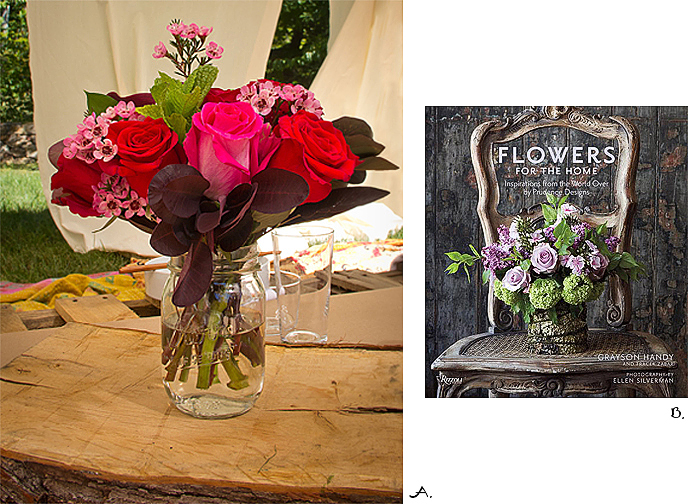 [A] The unexpected addition of mint is a signature Prudence Designs touch.

[B] Get your own floral cookbook.
For many of us, it's not just about having the right ingredients. When preparing a meal, you pull out a cookbook and follow a recipe. Grayson has taken the same approach to floral design by writing a step-by-step book that will school you in the art of arranging. Each chapter pulls inspiration from destinations around the globe followed by simple yet stunning bouquets anyone can prepare. Right now, flower markets are overflowing with an abundance of fresh pine, berries, peonies, amaryllis as well as roses, protea, and hydrangeas that are a mainstay throughout the year. If you can find it (they're only in bloom for a few weeks), throw in Grayson's favorite flower—the Chocolate Cosmos. "They're a deep burgundy, almost eggplant color and actually smell of chocolate. Nature is just so brilliant." —LK