Stay:
Oberoi Rajvillas
Totally grand, enchantingly designed, and with truly impeccable service, the Oberoi in Jaipur is beyond posh. The out-of-this-world resort is not for the overnighter or for the faint of wallet it's about 20 minutes outside of town and it is expensive. But to paraphrase my old friend Ferris Bueller, if you have the means, I highly recommend it.
Freshly scented towels waiting for you when you walk in the door, peacocks roaming the grounds, and a setting that will make you feel like you've been reincarnated as royalty. They've thought of everything and it feels fabulous to have all of your thinking done for you. We returned from a walk one morning to find breakfast set up in our room, and when I called room service to ask that they send something which was missing from our order they suggested I look in the beautiful box at the foot of our bed. It was an incognito oven. Keeping our croissants warm. In an adorable block print cover so gorgeous you would happily wear it to the beach.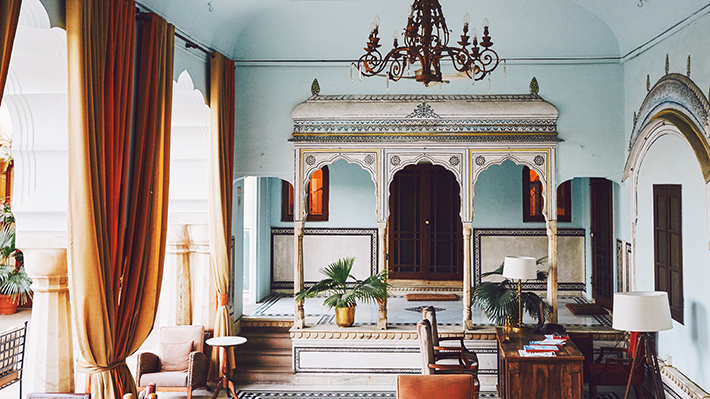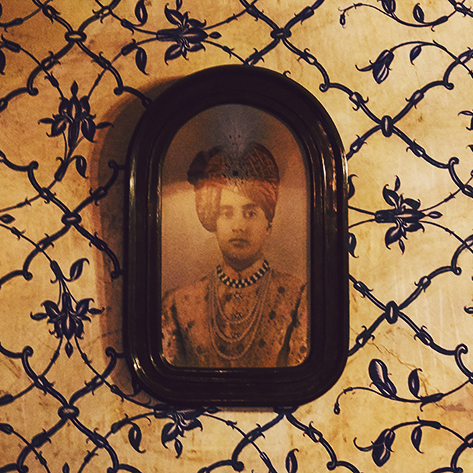 Samode Haveli
Havelis are mansions that have been converted into hotels. In the case of Samode Haveli, imagine the most opulent bed and breakfast you can and then sprinkle some extra elegance on top. Like a boutique hotel that is heavy on history. One of the best-loved and finely furbished in Jaipur, they're also known for their great service, not something every Haveli can claim.
If it feels like every corner has a story to tell and that's probably because it has been in the same family for almost 200 years—which is about how long it would take me to tire of sitting by their photogenic and fabulous pool. If you stay elsewhere you can always book it for dinner, but once inside those magic walls don't be surprised if you find yourself wanting to spend the night.
47 Jobner BagH
Still new on the scene and with a clean bohemian touch, 47 Jobner Bagh is a beautiful breath of fresh white air amongst the clouds of Jaipur pink. Intimate and easy, it feels effortlessly cool and totally unselfconscious. A great place to while away the hours while you fantasize about leaving western life behind.
Shop: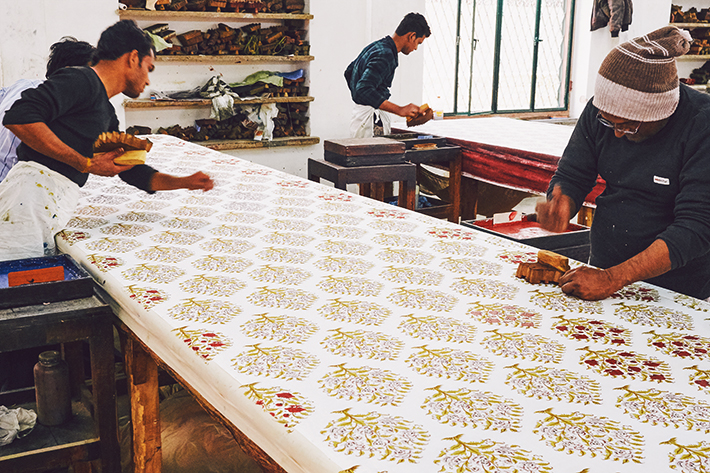 Brigitte Singh Workshop
Not easy to find and not exactly the easiest to explain its allure…but in a world where everyone's doing it, Brigitte Singh is doing it best. Block prints are easy to come by in Jaipur and all of India, but ask anyone who knows and Singh will be mentioned as the high priestess of printing. Her workshop is peaceful and her pieces are timeless (and museum worthy.) If you have room in your luggage her quilts and throws are world renowned. If not, her slippers are stunning and easily shimmy into an overstuffed suitcase. It's imperative that you call before you arrive. Jaideep in the office is very friendly and will make sure that they open the shop for you.
Ridhi Sidhi Textiles
On the way back to town for a decidedly different experience pop into Ridhi Sidhi textiles where they offer a little bit of everything. If by everything you mean cotton and ink. Pajama sets are cute, linens plentiful and I scored a chic indigo jacket, but what sets it apart is the jumble of vintage textiles you'll find the back wall. Digging through the morass I uncovered several Suzanis and eventually brought home some odd little bedazzled wall hangings. Oh and a new, enormous garden umbrella. Whoops.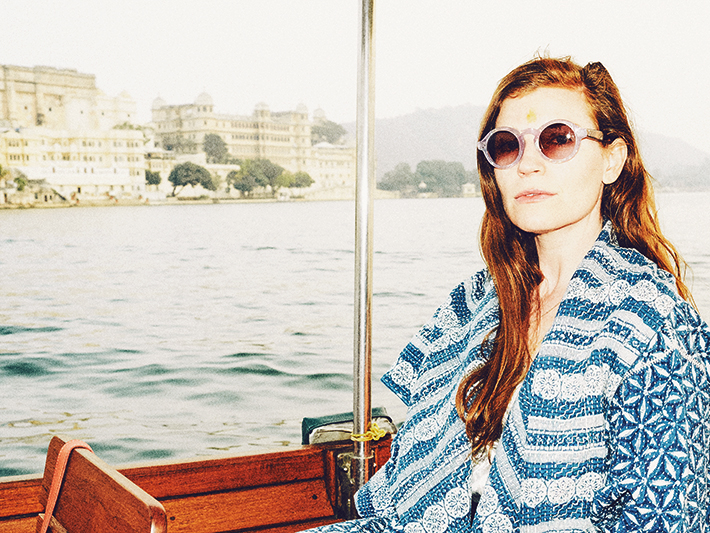 Anokhi
A hidden gem, this is not. But the well-known and well-loved resource for fair trade textiles is a favorite for a reason. It feels like a proper western shop with prices to match which means you can rest assured that whoever made your sarong was paid well and treated kindly while doing so. They occasionally offer very cute jumpsuits as part of their clothing collection. It's worth asking several of the sales people to see if they can guide you to one. I found mine in the clearance rack, after being told they didn't exist.
Tholia's Kuber
Should you be on a quest for drop-dead jewels and a gentleman from another era to guide you through them, Tholia's Kuber is your spot. Epic tribal jewelry dominates one wall of the shop while the more delicate modern baubles are displayed beautifully throughout the rest, all of them beckoning you: "Try. Me. On." And you should. Mister Tholia is an absolute love, sharply dressed and incredibly warm, he makes you feel relaxed and at home and is happy to help you go HAM if you want to try a hundred different things. I was dazzled by a pair of rock crystal drop earrings, and several of their bright cabochon cut ruby rings. Just down the road is the famous Gem Palace. Plenty more eye-popping jewel shopping can be had there and I highly recommend it. Make sure to visit Munnu-The Gem Palace upstairs, they have an entirely separate collection.
Khadi Ghar
If you're looking for gifts with a good backstory, Khadi Ghar is your best bet. Founded during the freedom struggle and lead by Mahatma Gandhi himself, Khadi isn't just a fabric—it's a movement. With the intention of liberating his country from colonial trade Gandhi encouraged villagers all over India to weave their own cotton, silk, and wool cloth, and the legacy is still alive today. While you are welcome to fulfill more of your fabric-hunting dreams here, my focus is the soap section. All natural, handmade and with a wide range of scents and suitability. I bought A LOT there, and not just sudsy stuff. There are face masks, hair oils, and incense. Buy with confidence, Gandhi-Ji would approve.
Eat:
Bar Paladio
The entirety of India is photogenic, it says a lot that this place is so damn instagram-able. Inside and out, it shines style, and the Italian menu is a godsend when you have been eating authentically for while. The ravioli looks a little sad but tastes delicious, and while I don't usually associate India with sauvignon blanc, it turns out that they make one which is totally delicious. Once you're nice and rosy, skibble next door to Hot Pink the first concept store in Jaipur and a great place to spend any remaining rupees you may have.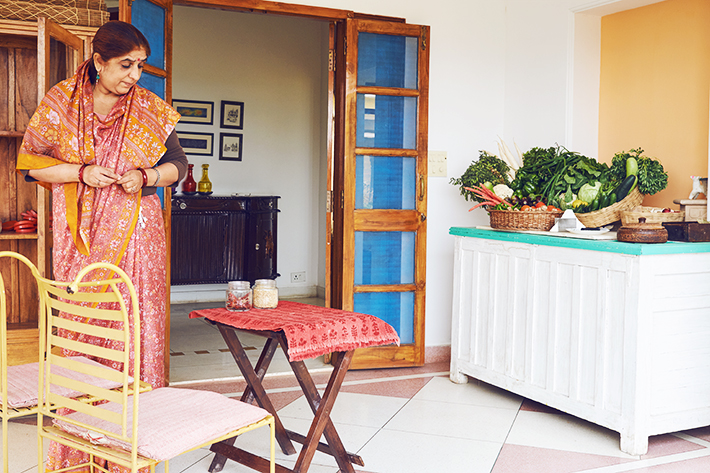 Anokhi Cafe
Salad. That's all I have to say.
OK. Fine. I'll elaborate. If you've been to India before you know what it means to miss fresh greens. If you haven't then prepare to eat only cooked food for the entirety of your time there. Every friend who has lived in India, worked there or just happened to be passing through has insisted that I put this on my list, simply because you can eat salad safely here. (They grow almost all of their produce on their own organic farm and wash everything as they prepare it with purified mineral water. I know this may sound crazy and overly cautious but that's the world you enter when you travel to this magical land.) With all that said they make a great salad indeed. And an excellent fresh pomegranate juice. And some sort of chocolate banana dessert that I think was vegan and I know was incredible.
Verandah Bar, Rambagh Palace
I've not formally dined here. But I attended the opening night of the Jaipur Literary Festival and can report that this setting is sublime. Go for a cocktail, order some bites, get swept away by the atmosphere. Truly Grand.
See:
Red Fort
Second only to the Taj Mahal, in terms of popularity, its huge and lovely and worth checking out. Best to book a guide.
Jantar Mantar
If you have the slightest interest in astronomy, astrology, or architecture take a stroll around this otherworldly collection of oversized instruments. You might feel like you've stumbled onto a futuristic film set but in fact you're surrounded by structures from the 1700's, built to measure time, predict eclipses, and outline other celestial happenings. The instruments are breathtaking to explore and their functions fascinating to examine. Italian modernism meets Indian astrology. Adore. —KC